Our January meeting focused on Obedience, using the beautiful witness of St. Joan of Arc as our saintly study.
We began, as always, with a coloring image of St. Joan going into battle, carrying the flag of the Holy Family. The completed page was added to the binders that the girls are creating. For the girls that have been Buds for three years, the binders have become very full!
The Buds created a holy card for the collection of cards they are also housing in their binders. St. Joan's image was on one side...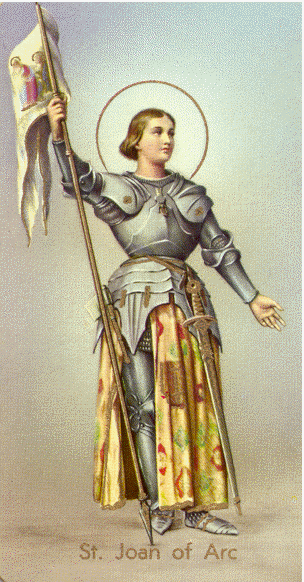 and a prayer on the other.
I place
my trust in You,
I love You with all my heart.
Our craft was a Shield of Virtue.
Look at these soldiers for Christ!
Continuing with the theme of Obedience, we played "Mother May I" (with a little Catholic twist)...
Blessed Mother Mary, May I?
The Buds had a blast trying their best to be obedient to the orders given by "Mary". Too funny!
And, we ended with another fantastic treat from Mrs. A.
Shield of Virtue Cupcakes
St. Joan of Arc, Pray for Us!